An egg is one of the most nutritious food, egg is also known to be one of the best breakfast options. Today featuring the "Scrambled Eggs Recipe, Eggs we all have been eating since we were children. Eggs have high & rich protein & can be eaten boiled & cooked eggs are liked by most of the people. Scrambled Eggs can be made in no time and this can be enjoyed over breakfast and dinner.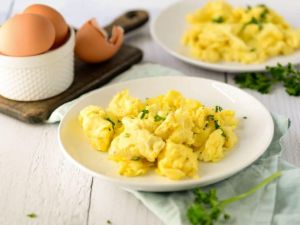 The scrambled eggs can be made in two types:
Hard Scrambled Eggs
Soft Scrambled Eggs
In this paragraph, The hard textured recipe is cooked over a medium temperature on the other hand the soft texture scrambled eggs are cooked over a low temperature. The hard textured recipe is drier & is less spongy whereas the soft textured scrambled eggs are softer & creamier.
It is the perfect healthy meal coming from our experts of The Best Non-Veg Restaurant in Ahmedabad, Cafe Upper Crust.
The recipe will serve 1– 2 people; Prep time – 15 minutes; Cook time – 15 Minutes, Total time – 30 Minutes. This recipe is perfect for quick breakfast & dinner as well. Follow below instructions and steps for making a delicious recipe.
INSTRUCTIONS
2 beaten egg
1 finely chopped tomato
1 tablespoon butter
1 teaspoon grated ginger
1 teaspoon salt
2 pinch powdered black pepper
1 finely chopped onion
1 pinch powdered turmeric
1 chopped green chili
1 handful chopped coriander leaves
2 tablespoon boiled peas
DIRECTIONS
Step –1
Take a bowl, break 2 eggs, add salt & black pepper & whisk well.
Step –2
Cook the eggs on low flame for 2-3 minutes
Step –3
Mix onion, tomato, turmeric, green chili, butter, ginger, coriander leaves, and peas (optional). Most importantly, To make this dish even more aromatic, you can add some very finely chopped garlic cloves.
Step –4
Serve hot with chapati or fold it inside bread or a pita pocket.
In Conclusion, Best Non-Veg Restaurant Ahmedabad, Café Upper crust recipes are designed to be convenient and straightforward to prepare at home. Such blog recipes can differ from those of seasoned chefs. These recipes may or may not be available at our eatery locations at the time of writing these blogs. Scrambled Eggs