Today featuring Punjabi Samosa Recipe "SAMOSA" is the most liked snack in India. As we all know samosa is spicy & can be cooked in few hours "Samosa" is referred as street food of India.
Mix boiled potato with the red chili powder, cumin powder, salt, & some optional spices. Stir them well as that it makes perfect fillings.
This is the perfect healthy meal coming from our experts of The Best Restaurant in Ahmedabad, Café Upper Crust.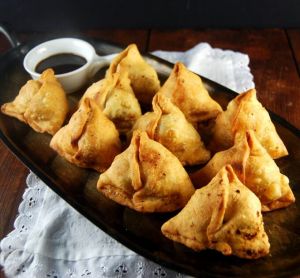 This recipe will serve 4 – 5 people; Prep time – 10 minutes; Cook time – 30 Minutes, Total time – 40 Minutes. This recipe is perfect for quick snack as well. Follow below instructions and steps for making delicious PUNJABI SAMOSA.
INSTRUCTIONS
FOR CURST
1 cup flour or Maida
½ teaspoon salt
1 ½ teaspoon oil
2 drops of lemon juice
FOR FILLING
3 medium size potatoes boiled.
1 ½ Teaspoon oil
1 Teaspoon cumin seeds
1 Teaspoon coriander powder
1 Teaspoon green chilies chopped
2 Teaspoon cilantro chopped
¼ Teaspoon red chili powder
1 Teaspoon Salt
OPTIONAL TOPPINGS
½ Teaspoon Garam masala
1 Teaspoon Mango powder
DIRECTIONS
Step –1
Boil Potato in water in the pressure cooker until soft.
Step –2
When potatoes are kept for boiling. Try to finish making dough for crispy outer layer.
Step –3
Roll the dough in small puri's and cut into half.
Step –4
Fill the small puri's with mashed potato filling & deep fry.
In Conclusion, Best Restaurant in Ahmedabad, Café Upper Crust recipes are intended to be simple and easy-to-cook recipes at your home. Such out of cooking and baking may vary from experienced chefs and Café Uppercrust recipes. At the time of writing these posts, these recipes may or may not be accessible at our eatery locations.